Naval Exercise Kakadu: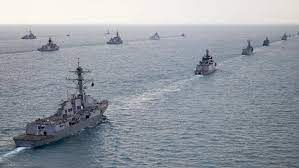 INS Satpura and P8I Maritime Patrol Aircraft have arrived in Darwin in Australia to participate in a multinational naval exercise, Kakadu, being hosted by the Royal Australian Navy.
Exercise Kakadu is a joint-enabled, biennial exercise hosted by the Royal Australian Navy and supported by the Royal Australian Air Force.
Kakadu is the Navy's premier maritime exercise, developing interoperability between nations in the maritime and air domains, and providing training opportunities for maritime security and surveillance.
It started in 1993.
Exercise Kakadu -22:
It's a two-week-long exercise, both in harbour and sea, involving ships and maritime aircraft from 14 navies.
Participation: Around 19 vessels, 34 aircraft and more than 3000 personnel from 25 countries are expected.
Theme: Partnership, Leadership, Friendship.
Significance: As Navy's most significant international engagement activity, Exercise Kakadu is vital for building relationships between participating countries.
The exercise provides an opportunity for regional partners to undertake multinational maritime activities ranging from constabulary operations to high-end maritime warfare in a combined environment.