Ayush Aahaar: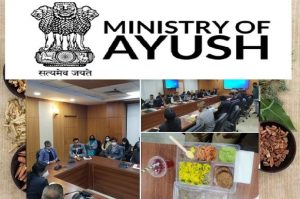 The Ministry of Ayush made a new beginning by making 'Ayush Aahaar' available at its canteen at Ayush Bhawan (Delhi).
It aims to promote a nutritional diet and a healthy living.
National Ayush Mission:
Government is implementing the Centrally Sponsored Scheme of Mission through States/UTs for development and promotion of Ayush system of medicine.
The government has decided to continue till 2026.
Aahaar Kranti Mission:
The mission is dedicated to spreading awareness about nutrition.
New Portals on Ayush Sector:
Five new portals on Ayush Sector have been launched – CTRI (Clinical Trial Registry of India), RMIS (Research Management Information System), SAHI (Showcase of Ayurveda Historical Imprints), AMAR (Ayush Manuscripts Advanced Repository), and e-Medha (electronic Medical Heritage Accession).
ACCR Portal and Ayush Sanjivani App:
Ayush Clinical Case Repository Portal: To portray the strengths of Ayush systems for treatment of various disease conditions.
AYUSH Sanjivani App Third Version: It will facilitate a significant study and documentation regarding the efficacy of selected Ayush interventions, including Ayush 64 and Kabasura Kudineer medicines in the management of asymptomatic and mild to moderate Covid-19 patients.