Vehicle Scrapping Policy: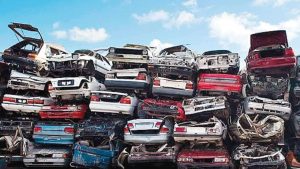 The Union Road and Transport Minister announced the Vehicle Scrapping Policy in the Lok Sabha.
It was first announced in the Union Budget for 2021-22.
The policy is estimated to cover 51 lakh Light Motor Vehicles (LMVs) that are above 20 years of age and another 34 lakh LMVs above 15 years of age.
India will also implement a Global Positioning System (GPS)-based toll collection system and do away with all toll booths within a year.
Aim: Reducing the population of old and defective vehicles, bringing down vehicular air pollutants, improving road and vehicular safety.
Provisions:
Fitness Test:
Old vehicles will have to pass a fitness test before re-registration and as per the policy government commercial vehicles more than 15 years old and private vehicles which are over 20 years old will be scrapped.
Old vehicles will be tested at the Automated Fitness Center and the fitness test of the vehicles will be conducted according to international standards.
Emission test, braking system, safety components will be tested and the vehicles which fail in the fitness test will be scraped.
The Ministry has also issued rules for the registration procedures for scrapping facilities, their powers, and scrapping procedures to be followed.
Road Tax Rebate:
The state governments may be advised to offer a road-tax rebate of up to 25% for personal vehicles and up to 15% for commercial vehicles to provide an incentive to owners of old vehicles to scrap old and unfit vehicles
Vehicle Discount:
Vehicle manufacturers will also give a discount of 5% to people who will produce the 'Scrapping Certificate' and registration fees will be waived off on the purchase of a new vehicle.
Disincentive:
As a disincentive, increased re-registration fees would be applicable for vehicles 15 years or older from the initial date of registration.