Varuna Naval Exercise: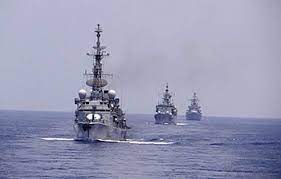 The 20th edition of the bilateral naval exercise that is named 'Varuna' is being conducted by India and France in the Arabian Sea from 30th March till 3rd April 2022.
In this exercise, various units of the two navies which include submarines, ships, fighter aircraft, maritime patrol aircraft, and helicopters are participating.
This exercise is conducted so that the participating units can sharpen and enhance their operational skills in the maritime sector.
The participating units also look to improve their inter-operability so that they can undertake various maritime security operations.
The units also demonstrate their commitment, as an integrated force, to the promotion of the region's security, peace, and stability.
The scope of this exercise has grown over the years.
These exercises provide the navies of both nations with various opportunities to the best possible practices from each other.
This exercise plays the role of the significant driver for interactions at the operational level between the navies of India and France.
Also, this exercise has highlighted the shared commitment of both countries to the safety, security, and freedom of the global maritime sector.