NCAVES India Forum 2021: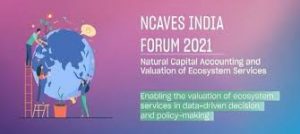 Organized by the Ministry of Statistics and Programme Implementation (MoSPI).
Natural Capital Accounting and Valuation of the Ecosystem Services (NCAVES) India Forum-2021 is a part of NCAVES project of United Nations Statistics Division (UNSD).
It aims to help five countries for addressing the concerns of sustainability and conserving the environment for future use while charting the course for economic development.
India is one of the five countries taking part in this project – the other countries being Brazil, China, South Africa and Mexico.
NCAVES project:
The project seeks to advance the theory and practice of environmental and ecosystem accounting in Brazil, China, India, Mexico and South Africa.
The project has been jointly implemented by the United Nations Statistics Division (UNSD), the United Nations Environment Programme (UNEP) and the Secretariat of the Convention of Biological Diversity (CBD).
It aims to assist the five participating partner countries, to advance the knowledge agenda on environmental-economic accounting, in particular ecosystem accounting.
The project will have a duration until the end of 2021.
Significance:
The participation in the project has helped MOSPI commence the compilation of the Environment Accounts as per the UN-SEEA framework.
The MOSPI has also released environmental accounts in its publication "EnviStats India" on an annual basis since 2018.
Several of these accounts are closely related to the social and economic attributes, making them a useful tool for the Policy.