BRICS Chairship: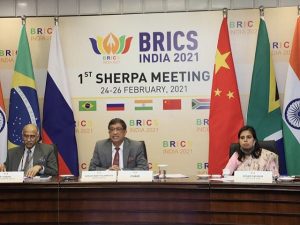 India's BRICS Chairmanship begins with a 3-day-long Sherpas' meeting
India has assumed the Chairmanship of BRICS for 2021 and will be hosting this year's summit.
The BRICS grouping comprises Brazil, Russia, India, China, and South Africa.
BRICS India 2021:
India has begun its BRICS Chairship with the inaugural three-day-long Sherpas' meeting.
This was informed by Ministry of External Affairs Spokesperson Anurag Srivastava on February 24, 2021.
Secretary chaired the meeting and introduced India's themes, priorities, and calendar for BRICS Summit 2021.
He further said that India looks forward to continuing productive discussions with our BRICS partners over the next two days.
BRICS
It is the acronym for Brazil, Russia, India, China, and South Africa. These members are known for their significant influence in the region.
The respective government of the BRICS state meets annual formal summits starting from 2009.
The 12th BRICS Summit was held by Russia on November 17, 2020, virtually amid the COVID-19 pandemic.