New Circuit House At Somnath: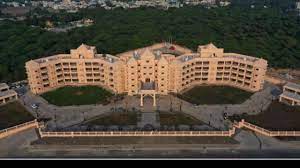 Prime Minister Narendra Modi will inaugurate the new Circuit House at Somnath on 21st January, 2022.
Somnath Temple is visited by lakhs of devotees from India and abroad every year. The need for the new Circuit House was felt as the existing government facility was located far off from the temple.
The new Circuit House has been built at a cost of over Rs 30 crore and is located near the Somnath Temple. It is equipped with top class facilities including suites, VIP and deluxe rooms, conference room, auditorium hall etc.
The Somnath temple, also called Somanātha temple or Deo Patan, is located in Prabhas Patan, Veraval in Gujarat, India.
One of the most sacred pilgrimage sites for the Hindus, they believe it to be the first among the twelve Jyotirlinga shrines of Shiva.
It was reconstructed several times in the past after repeated destruction by several Muslim invaders and rulers.
After India's independence, those ruins were demolished and the present Somnath temple was reconstructed in the Māru-Gurjara style of Hindu temple architecture.
The contemporary Somnath temple's reconstruction was started under the orders of the first Home Minister of India Vallabhbhai Patel and completed in May 1951 after his death.
Presently the Prime Minister of India Narendra Modi is the chairman of Shree Somnath Mandir trust.