116th Birth Anniversary Of Babu Jagjivan Ram: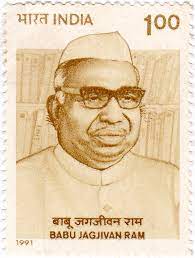 He was a national leader, a freedom fighter, a social justice crusader, a champion of the depressed classes, and an outstanding Parliamentarian.
In 1931, he became a member of the Indian National Congress (Congress Party).
He was instrumental in the foundation of the All India Depressed Classes League.
All India Depressed Classes League: an organisation dedicated to attaining equality for untouchables, in 1934-35.
He was a champion of social equality and equal rights for the Depressed Classes.
He served in Nehru's cabinet in the posts of minister for communications (1952–56), transport and railways (1956–62), and transport and communications (1962–63).
He served as minister for food and agriculture (1967–70).
In 1970 he was made minister of defence.
He later served as the Deputy Prime Minister of India (1977–79).
Jagjivan Ram was a member of the Parliament uninterrupted from 1936 to 1986 (40 years) and this is a world record.
He also holds another record for being the longest-serving cabinet minister in India (30 years).