What Is Buddhist Circuit?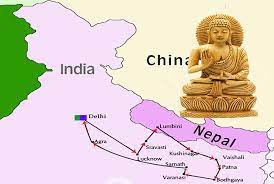 Centre has planned major infrastructure push for Buddhist Circuit. The Union Tourism Ministry has aggressively started tourism promotion with participation of the industry stakeholders, especially after the dramatic improvement of Covid situation in the country and achievement of vaccination targets.
The Buddhist Circuit project was announced by the central government in 2016. Since then, Rs 343 crore has been sanctioned for the project under various schemes.
The Buddhist circuit is a route that follows in the footsteps of the Buddha from Lumbini in Nepal where he was born, through Bihar in India where he attained enlightenment, to Sarnath and Kushinagar in Uttar Pradesh in India, where he gave his first teachings and died.
Under the Ministry of Tourism's flagship Swadesh Darshan scheme, multiple projects have been undertaken in Madhya Pradesh, Bihar, Uttar Pradesh, Gujarat and Andhra Pradesh.
In Bihar and Uttar Pradesh, the plan is to further develop the sites of Bodh Gaya, Nalanda, Rajgir, Viashali, Sarnath, Shravasti, Kushinagar, Kaushambi, Sankisa and Kapilavastu.
These sites currently receive approximately six per cent of nationwide foreign tourist arrivals, with Sarnath and Bodh Gaya leading the pack.
Initially, it was envisaged only to seven major Buddhist pilgrimage sites in Uttar Pradesh and Bihar, later it was expanded to 21 more states to make it India's first trans- national tourist circuit.
It has identified stupas and viharas in these 21 states, around which small intra-state Buddhist zones will be developed.
The states now that will be covered include Madhya Pradesh, Rajasthan, Kerala, West Bengal, Goa, Gujarat and Jammu & Kashmir.
The Buddhist circuit has four international and two domestic airports, while two more in the pipeline.
There are also plans of developing helicopter services and improving international connectivity under the UDAN scheme.