New Quadrilateral Economic Forum: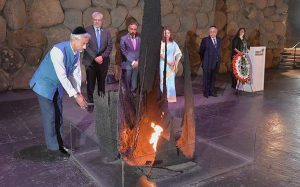 India, Israel, the United Arab Emirates and the United States have decided to launch a new quadrilateral economic forum, as External Affairs Minister S. Jaishankar joined his counterparts at a videoconference from Jerusalem, where he is on a five-day visit.
The quadrilateral builds on ongoing cooperation between the U.S., Israel and the UAE after the Abraham Accords last year, and the India, Israel and UAE cooperation that was launched since.
Jaishankar's travel to Israel is also routed via the UAE, on flights that started as a consequence of the Abraham Accords and the opening of diplomatic missions and flights between them.
The grouping had decided to establish an international forum for economic cooperation, and specifically discussed "possibilities for joint infrastructure projects".
The four Ministers discussed "expanding economic and political cooperation in the Middle East and Asia, including through trade, combating climate change, energy cooperation, and increasing maritime security," as well as ways to counter the COVID-19 pandemic.