New Shepard.: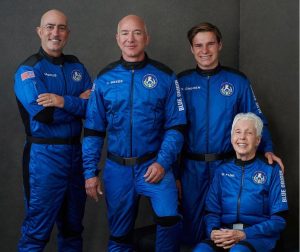 Billionaire Jeff Bezos has made a short journey to space, in the first crewed flight of his rocket ship, New Shepard.
New Shepard, built by Bezos' company Blue Origin, is designed to serve the burgeoning market for space tourism.
The spacecraft lifted off from a private launch site near Van Horn, Texas. The capsule reached a maximum altitude of around 107km before starting its descent, parachuting down to a soft landing in the West Texas desert 11 minutes later.
Competing head to head with fellow billionaire Richard Branson, who flew into space aboard his Virgin Galactic rocketplane July 11, Bezos blasted off with his brother Mark and two history-making passengers: 82-year-old aviation pioneer Wally Funk, the oldest person to fly in space, and Oliver Daemen, an 18-year-old Dutch student who is the youngest ever to fly in space.