Pinaka Rocket: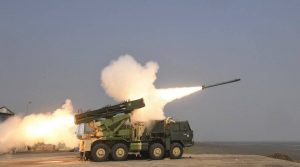 DRDO successfully test fired extended range version of indigenously developed Pinaka rocket from a Multi-Barrel Rocket Launcher (MBRL) on 24th and 25th June 2021 at Integrated Test Range (ITR), Chandipur off the coast of Odisha.
The enhanced range version of Pinaka Rocket System can destroy targets at distances up to 45 kms.
The rocket system has been developed jointly by Pune based Armament Research and Development Establishment (ARDE) and High Energy Materials Research Laboratory (HEMRL) with manufacturing support from M/s Economic Explosives Limited, Nagpur.
The Pinaka is a multi-barrel rocket launch system that can fire a salvo of 12 rockets in 44 seconds. The weapon system, mounted on a Tatra truck, is equipped with state-of-the-art guidance kit comprising an advanced navigation and control system.
The Navigation system of the missile is also aided by the Indian Regional Navigation Satellite System (IRNSS).