What Is Extinction Rebellion?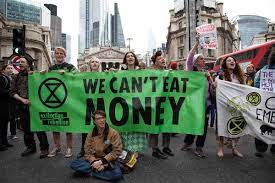 World over activists of Extinction Rebellion are staging protests in various formats.
Initially, launched in the United Kingdom on October 31, 2018, as a response to a report by the United Nations Intergovernmental Panel on Climate Change (IPCC).
Now, it is a global movement which seeks to "rebel", and asks groups to "self-organise", without the need for anyone's permission, to come up with collective action plans as long as they adhere to the group's core principles and values.
It is a decentralised, international and politically non-partisan movement using non-violent direct action and civil disobedience to persuade governments to act justly on the Climate and Ecological Emergency.
The group has "three core demands" of governments around the world.
It wants governments to "Tell the Truth", to "Act Now", and to "Go Beyond Politics" in order to confront the climate and ecological emergency that the world is faced with.
The group had announced a "Declaration of Rebellion" at launch, involving a public act of civil disobedience in London, demanding that the government reduce carbon emission to zero by 2025.
The eventual plan was to coordinate actions in other countries and to engage in an "International Rebellion" in March 2019.
The XR global website, however, states that the movement is "strictly non-violent", and that they are "reluctant law-breakers".
In April 2019, Greta Thunberg, the teenage Swedish climate activist, lent her support to the group by speaking to its members in London.