Smart Solutions Challenge And Inclusive Cities Awards 2022: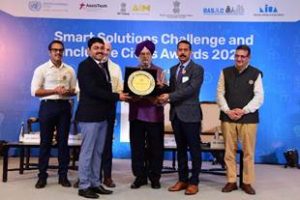 Smart Solutions Challenge and Inclusive Cities Awards 2022 were awarded by the Ministry of Housing and Urban Affairs.
In the category of early-stage innovations, the winner was a wearable technology product, Fifth Sense by Glovatrix Pvt. Ltd.
This product translates sign language gestures to speech and text using sensors and Artificial Intelligence.
In the second category of market-ready solutions, Mouseware by Dextroware Devices Pvt. Ltd. was the winner.
Mouseware is a head-wearable device that enables hands-free control of computers and smart gadgets.
Belagavi Smarty City's system for those with disabilities to access education and healthcare was awarded the top prize in the category of implemented solutions.
The Smart Solutions Challenge is an initiative of the National Institute of Urban Affairs (NIUA) and the United Nations (UN)) in India.
NIUA and UN in India are looking for innovative ideas, solutions, technologies, products, and business solutions that can help break-down and resolve complex city-level inclusion and accessibility challenges faced by persons with disabilities, women and girls, and the elderly.