One Candidate One Constituency: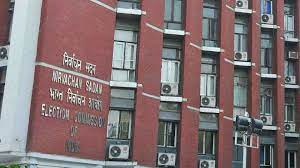 The Chief Election Commissioner asked the Ministry of Law & Justice to limit the seats from which a candidate can contest to just one.
It had also recommended a ban on exit polls and opinion polls and said there should be some restriction on conducting and disseminating the results of opinion polls right from the day of the first notification of an election till the completion of the election in all its phases.
As per Section 33(7) of the RPA (Representation of the People Act), 1951, one candidate can contest from a maximum of two constituencies.
More constituencies were allowed until 1996 when the RPA was amended to set the cap at two constituencies.
Since 1951, many politicians have used this factor to contest from more than one seat – sometimes to divide the opponent's vote, sometimes to profess their party's power across the country, sometimes to cause a ripple effect in the region surrounding the constituencies in favour of the candidate's party and all parties have exploited Section 33(7).
Since no Candidate can represent two Constituencies, the idea of this system appears to be illogical and ironic.
The irony behind Section 33(7) of the RPA is that it leads to a situation where it would be negated by another section of the same Act – specifically, Section 70.
While 33(7) allows candidates to contest from two seats, Section 70 bars candidates from representing two constituencies in the Lok Sabha/state. Assembly.
After sacrificing one of the Constituencies, a by-election is automatically triggered immediately after the general election.
For example, in 2014, after PM Narendra Modi won both Vadodara and Varanasi, he vacated his seat in Vadodara, forcing a by-election there.
Lakhs of taxpayer rupees need to be shelled out because of a by-election that could have been easily avoided.
Before 1994, when candidates could contest from even three seats, the financial burden was even heavier.
Repeated elections are not only unnecessary and costly, but they will also cause voters to lose interest in the electoral process.
Invariably, the by-election would most likely see fewer voters turn out to vote when compared to the first election a few days earlier.
The system of one candidate, two constituencies provides a "wider choice to the polity as well as candidates".
Doing away with the provision could cause an infringement of the rights of the candidates contesting elections as well as curtail choice of candidates to the polity.