Wimbledon 2022: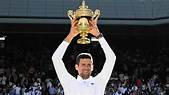 In Tennis, Serbian star Novak Djokovic won Wimbledon 2022 after beating Australia's Nick Kyrgios 4-6, 6-3, 6-4, 7-6 in London. Elena Rybakina of Kazakhstan clinched the Women's Singles title.
Novak Djokovic became the fourth player in the open era after Roger Federer, Pete Sampras, and Bjorn Borg to win four Wimbledon titles in a row.
Djokovic has a total of seven Wimbledon titles with his last four titles coming in 2018, 2019, 2021, and 2022.
It is Djokovic's 21st Grand Slam title overall, putting him one behind record-holder Rafael Nadal.