Women's Day 2022: Theme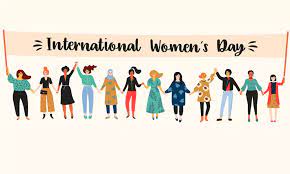 Women's Day is celebrated every year around the world on March 8.
Theme for International Women's Day, 2022 (IWD 2022) is 'Gender equality today for a sustainable tomorrow'.
It attempts to recognise the "contribution of women and girls around the world, who are leading the charge on climate change adaptation, mitigation, and response, to build a more sustainable future for all".
IWD 2022 campaign theme is '#BreakTheBias'.
It intends to promote a "gender equal world", which is "free of bias, stereotypes, and discrimination". "A world that is diverse, equitable, and inclusive", and where "difference is valued and celebrated".
IWD has been celebrated for over a century now, but many people think of it purely as a feminist cause. Its roots, however, are found in the labour movement, wherein it was first organised in 1911 by the early 20th century Marxist from Germany Clara Zetkin.
Purple, green and white are the colors of International Women's Day.

Purple signifies justice and dignity.
Green symbolizes hope.
White represents purity, albeit a controversial concept.