Integration Of e-Shram Portal With One Nation One Ration Card Scheme: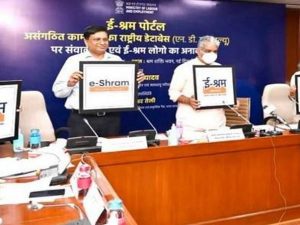 The centre is in the process of integrating the e-Shram portal of the Ministry of Labour and Employment with the One Nation One Ration Card scheme.
A comparison of the location data with permanent address data on e-Shram shall help identify migrant workers within e-Shram.
About the e-Shram Portal:
Launched in August 2021 by the Union Ministry of Labour & Employment.
It is a national database to register unorganised workers.
The portal came into being after the Supreme Court directed the Government to complete the registration process of unorganised workers.
Each registered worker will be issued an identity card, which can be used across the country to avail any benefits announced by the Government.
One Nation One Ration Card (ONORC):
The ONORC scheme is aimed at enabling migrant workers and their family members to buy subsidised ration from any fair price shop anywhere in the country under the National Food Security Act, 2013.
ONORC was launched in August, 2019.
Implementing Agency: Department for the nation-wide portability of ration cards under National Food Security Act (NFSA).
Eligibility: Any citizen, who is declared under Below Poverty Line (BPL) category is eligible to get the benefit of this scheme across the country.