One Rank One Pension (OROP) Policy: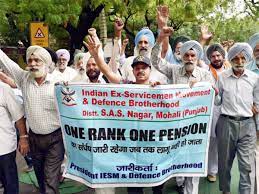 The Supreme Court asked the Centre to show how many persons in the Armed forces have benefitted from 'One Rank One Pension' (OROP) policy.
The court also said that Centre's stand on OROP presented a much "rosier picture" than what is actually given to the pensioners of the Armed forces.
OROP means the payment of the same pension to military officers for the same rank for the same length of service, irrespective of the date of retirement.
Before OROP, ex-servicemen used to get pensions as per the Pay Commission's recommendations of the time when they had retired.
Uttar Pradesh and Punjab have the highest number of OROP beneficiaries.
Armed Forces Personnel who had retired till 30th june 2014 are covered under it.
The implementation of the scheme was based on recommendation of the Koshiyari committee, a 10 member all-party parliamentary panel formed under the chairmanship of Bhagat Singh Koshiyari.