Indian Telegraph Act, 1885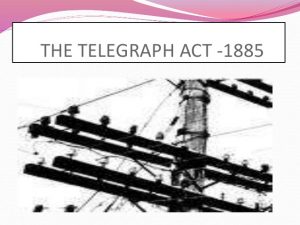 Following violent protests, the Union Home Ministry has issued orders to suspend Internet in some areas in Delhi under the Temporary Suspension of Telecom Services (Public Emergency or Public Safety Rules 2017) of the Indian Telegraph Act, 1885.
The order under this act had been issued only twice before — in Delhi on December 19 and 20, 2019, at the height of the protests against the Citizenship (Amendment) Act.
The rules framed in 2017 empower the Union Home Secretary and a State's Home Secretary to pass directions to suspend the telecom services, including the Internet, "due to public emergency or public safety."
About the Indian Telegraph Act, 1885
It governs the use of wired and wireless telegraphy, telephones, teletype, radio communications, and digital data communications.
It gives the Government of India exclusive jurisdiction and privileges for establishing, maintaining, operating, licensing, and oversight all forms of wired and wireless communications within Indian territory.
It also authorizes government law enforcement agencies to monitor/intercept communications and tap phone lines under conditions defined within the Indian Constitution.
Section 5(2) of the act allows central and state governments to prevent the transmission of messaging during a "public emergency or in the interest of public safety", or "in the interests of the sovereignty and integrity of India, the security of the state".