Draft Battery Swapping Policy: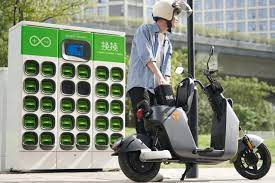 Government think-tank Niti Aayog has prepared a draft battery swapping policy.
Under this, it has proposed offering incentives to electric vehicles (EVs) with swappable batteries, subsidies to companies manufacturing swappable batteries, a new battery-as-a-service business model, and standards for interoperable batteries, among other measures.
The draft policy has suggested that the GST Council consider reducing the differential across the tax rates on Lithium-ion batteries and electric vehicle supply equipment.
Currently, the tax rate on the former is 18 per cent, and 5 per cent on the latter.
Finance Minister Nirmala Sitharaman had announced during this year's Union Budget that the government was set to roll out a battery swapping policy, in a bid to reduce upfront costs of purchasing EVs and drive adoption among buyers.
The policy is targeted at supporting the adoption of battery-swapping, primarily for battery swapping systems used in electric scooters and three-wheeler electric rickshaws.
Niti Aayog said battery swapping will fall under the battery-as-a-service (BaaS) business model, and such models would have to ensure interoperability between EVs and batteries for a successful mainstreaming of battery swapping as an alternative.