Operation Kachchhap: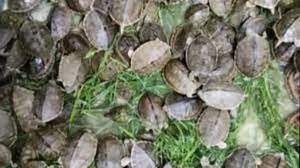 In a recent operation named "Kachchhap," the Directorate of Revenue Intelligence (DRI) has successfully rescued nearly a thousand live baby Gangetic turtles, shedding light on the ongoing battle against illegal wildlife trade and the protection of these unique creatures.
The Ganga river system in India is home to 13 species of turtles, they face various threats from habitat loss, overexploitation, and pollution.
The operation resulted in the recovery of live baby turtles of different species, such as the Indian Tent Turtle, Indian Flapshell Turtle, Black Spotted/Pond Turtle, and Brown Roofed Turtle ,some of which are considered vulnerable or near-threatened species according to the International Union for Conservation of Nature (IUCN) Red List and are protected under the Wildlife (Protection) Act, 1972.
DRI serves as India's premier anti-smuggling agency, operating under the Central Board of Indirect Taxes & Customs, Ministry of Finance. It is responsible for detecting and preventing various forms of smuggling, including illicit wildlife trade.