Travel For LiFE Initiative: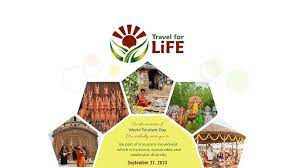 The Pacific Asia Travel Association (PATA) is partnering with India to expand the Travel for LiFE (Lifestyle of the Planet, for the Planet, and by the Planet) initiative across the Asia-Pacific region.
The Ministry of Tourism in India will establish a PATA desk to enhance engagement with PATA regarding Travel for LiFE and other tourism-related cooperation.
Travel for LiFE is a sectoral program launched by the Ministry of Tourism in India in collaboration with the Ministry of Environment, Forest and Climate Change, the United Nations World Tourism Organisation (UNWTO), and the United Nations Environment Programme (UNEP)
The initiative aims to bring about behavioural changes in both tourists and tourism businesses, focusing on environmental protection and socio-cultural sustainability.
The program also encourages tourism businesses to adopt sustainable practices and earn certification levels.