Quaoar : Dwarf Planet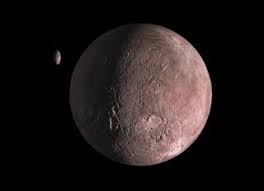 Astronomers have recently spotted a ring around a Pluto-sized dwarf planet called Quaoar in the outer reaches of the solar system.
Quaoar is a dwarf planet that's located in the Kuiper Belt at the solar system's edge.
It is about 697 miles wide (1,121 kilometers).
It is roughly one-twelfth the diameter of Earth, one-third the diameter of the Moon, and half the size of Pluto.
Quaoar is greater in volume than all known asteroids combined.
Quaoar has its own moon, the 100-mile-wide (160 km) Weywot.
Its surface is moderately red and composed of low-density ices mixed with rock.
It takes about 288 years for Quaoar to go once around the sun in a roughly circular orbit.
Kuiper belt, also called the Edgeworth-Kuiper belt, is a flat ring of small icy bodiesthat revolve around the Sun beyond the orbit of the planet Neptune.