Oran land: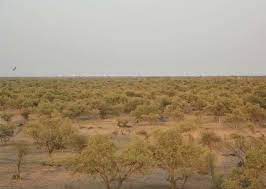 Residents from around 40 villages of Jaisalmer, Rajasthan have walked 225 kilometers to protect community-conserved sacred spaces known as 'orans'.
Currently, the biodiversity hotspots are classified as wastelands.
The current categorization is causing a loss of biodiversity and is affecting the livelihood of the locals in the area, as huge chunks of land are being allotted for setting up solar plants.
Thus need to recategorize the area as 'oran land'.
The orans are among the last natural habitats of the great Indian bustard
The open stretch of land, which receives long hours of sunlight and brisk winds, has become a hub of green energy with windmills and solar photovoltaic dotting
There are other orans like Mokla, Salkha, Kemde, which also spread across several hectares but are listed as wastelands
These orans are hotspots of biodiversity with trees and flowers like rohida, bordi, kumbhat, and desi babool in large numbers.