Osteo HRNet : AI-Based Framework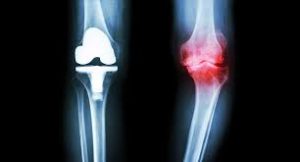 Researchers from the Indian Institute of Technology (IIT) Guwahati have developed an AI-based framework called Osteo HRNet.
This framework aims to revolutionize the assessment of Knee Osteoarthritis (OA) severity through the automatic analysis of X-ray images.
The Osteo HRNet framework developed by the researchers at IIT Guwahati utilizes deep learning techniques to assess the severity of Knee OA.
It incorporates the Kellgren and Lawrence (KL) grading scale, a widely accepted standard for classifying the disease severity.
The framework harnesses the power of the High-Resolution Network (HRNet) to capture multi-scale features of knee X-rays, enhancing the accuracy of the analysis.
The Osteo HRNet framework is poised to bring about significant advancements in diagnosing Knee OA.
By automatically assessing the severity level of the disease, medical practitioners can make more informed decisions remotely, leading to more accurate diagnoses and tailored treatment plans.
The framework's ability to pinpoint the medically crucial areas further enhances its utility.