Padma Bridge Project: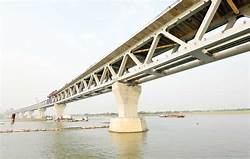 The Foreign Ministry of Bangladesh has denied any foreign funding in the construction of the Padma Bridge project. It asserted that the 'Padma multipurpose bridge has been entirely funded by the government of Bangladesh.'
It said that some quarters are trying to portray that the bridge which is to be inaugurated by Prime Minister Sheikh Hasina on 25 June has been constructed with foreign funds and is a part of the Belt and Road Initiative (BRI) of China.
The 6.15 kilometres long Padma Bridge is the largest bridge in Bangladesh.
The bridge will help connect 19 south-western districts of Bangladesh with the rest of the country.