Palkhi Festival :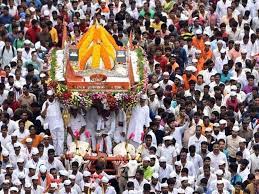 Delegates from several countries, who are in the city for the G20 Digital Economy Working Group Conference, got a glimpse of the 800-year-old Warkari community's palkhi festival.
Palkhi festival is a 1000 year old tradition which was started by some saints of Maharashtra (India) and is still continued by their followers called varkaris i.e people who follow a vari, a fundamental ritual.
It is an annual pilgrimage (yatra) to Pandharpur – the seat of the Hindu god Vithoba in Maharashtra, in honour of the deity.
They walk with palkhis (chariots) carrying paduka (sandals) of various saints – most notably Dnyaneshwar and Tukaram.
Dnyaneshwar's palakhi leaves from Alandi, while Tukaram's begins at Dehu, both in Pune district of Maharashtra.
The Palkhi starts in the month of Jyeshth (June), and the whole process lasts a total of 22 days.
Every year on the eleventh day of the first half of the month of Ashadh, the Palkhi reaches Pandharpur.
Upon reaching Pandharpur on Ashadi Ekadashi, these devotees take a holy dip in the sacred Chandrabhaga River/Bhima River before proceeding to visit the Vitthal temple.