Cease-Fire Between Israel And The Palestinian Resistance Group Hamas In Gaza: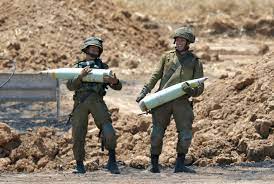 Egypt is seeking to reach an agreement on a cease-fire between Israel and the Palestinian resistance group Hamas in Gaza.
The Agreement includes Long-term cease-fire, a prisoner swap, humanitarian aid to Gaza and reconstruction.
Hamas is a Palestinian Islamist political organization and militant group that has waged war on Israel since the group's 1987 founding, most notably through suicide bombings and rocket attacks.
It seeks to replace Israel with a Palestinian state. It also governs Gaza independently of the Palestinian Authority.
Gaza has been under a tightened Israeli blockade since 2007 in which most basic goods still enter the region under highly restricted measures.
In May, an Israeli offensive left nearly 260 Palestinians dead and thousands wounded as well as a vast trail of destruction in Gaza. Palestinian resistance groups responded with rocket barrages into Israeli areas, killing at least 13 Israelis.
The Gaza Strip is an entirely artificial creation that emerged in 1948 when roughly three-fourths of Palestine's Arab population was displaced, in some cases expelled, during the course of Israel's creation.
And most of the refugees, they were sort of scattered across the region in neighboring countries like Jordan, Syria and Lebanon.
Some went to the West Bank, which came under Jordanian rule after 1948. And a very large number went to the Gaza Strip, which is this tiny little coastal strip between Egypt and what is now Israel. Today, the population of Gaza, about 70% of Gaza's population are refugees.
Hamas forcibly took control over the Gaza Strip in 2007. Shortly thereafter, the Israelis imposed a complete closure on Gaza's borders. They declared Gaza to be an enemy entity. Of course, Gaza is not a state.
Hamas, of course, is viewed by Israel and by much of the international community as a terrorist organization, including the United States, for their history of attacks on civilians and so forth.
Israel still occupies the West Bank, and although it pulled out of Gaza the UN still regards that piece of land as part of occupied territory.
Israel claims the whole of Jerusalem as its capital, while the Palestinians claim East Jerusalem as the capital of a future Palestinian state.
The US is one of only a handful of countries to recognise Israel's claim to the whole of the city.