Kharchi Festival: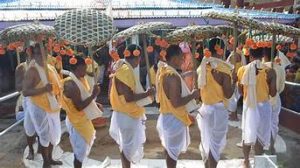 Kharchi Puja is a Hindu festival from Tripura, the festival involves the worship of the fourteen gods forming the dynasty deity of the Tripuri people.
Tracing its etymology, 'khar' means sin and 'çhi' means cleaning.
Therefore, together the name translates to – cleaning of sins.
The temple of the 14 gods was built during the reign of Maharaja Krishna Manikya.
This is an age-old tradition being celebrated from some time around 1760 AD and since has been an annual occasion for the community to come together and soak in the festivities.