Phase-V Of The Sagar Parikrama Initiative: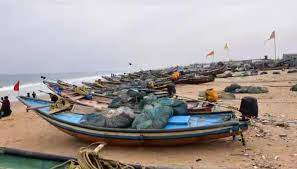 The Union Ministry of Fisheries, Animal Husbandry and Dairying has recently announced the commencement of Phase-V of the Sagar Parikrama initiative.
Sagar Parikrama aims to address the challenges faced by fishers and stakeholders while uplifting their economic prospects through various fisheries schemes and programs, such as Pradhan Mantri Matsya Sampada Yojana (PMMSY) & Kisan Credit Cards (KCC).
Sagar Parikrama is an evolutionary journey envisaged in the sea across the coastal belt demonstrating solidarity with all fisherfolk, fish farmers and concerned stakeholders as a spirit of 75th Azadi Ka Amrit Mahotsav.
Nodal Ministry: Ministry of Fisheries, Animal Husbandry & Dairying.
The Parikrama shall be accompanied by the State Fisheries officials, Fishermen representatives, Fish-Farmers entrepreneurs, stakeholders, professionals, officials and Scientists from across the nation.
The Phase-V journey will encompass six locations across the states of Maharashtra and Goa. During the journey, fishermen, coastal fishers, fish farmers, and young fishery entrepreneurs will receive certificates and sanctions related to the PMMSY, KCC, and State Schemes.
Phase III covers mainly the coastal areas of Maharashtra and Gujrat.
The Phase –I and Phase- II programmes of 'Sagar Parikrama' has been organized in March 2022 and September 2022 respectively.