Sagar Parikrama Phase III: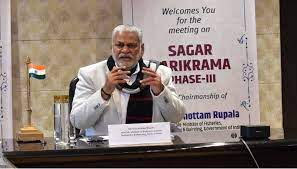 The Ministry of Fisheries, Animal Husbandry & Dairy said in a statement that Phase-III, "Sagar Parikrama," will start from Surat, Gujarat's Hazira Port.
Sagar Parikrama is an initiative of Government of India, aiming to resolve the issues of the fishers and other stakeholders and facilitate their economic upliftment through various fisheries schemes and programs being implemented by the Government of India such as PMMSY.
Sagar Parikrama is an evolutionary journey envisaged in the sea across the coastal belt demonstrating solidarity with all fisherfolk, fish farmers and concerned stakeholder's as a spirit of 75th Azadi Ka Amrit Mahotsav.
Nodal Ministry: Ministry of Fisheries, Animal Husbandry & Dairying.
The Parikrama shall be accompanied by the State Fisheries officials, Fishermen representatives, Fish-Farmers entrepreneurs, stakeholders, professionals, officials and Scientists from across the nation.
Phase III program of 'Sagar Parikrama' will cover mainly the coastal areas of Maharashtra and Gujrat.
The Phase –I and Phase- II programmes of 'Sagar Parikrama' has been organized in March 2022 and September 2022 respectively.