Nawegaon Nagzira Tiger Reserve : Birth Of Four Cub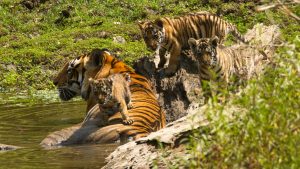 A tigress has recently given birth to four cubs in the Navegaon Nagzira Tiger Reserve (NNTR) in Maharashtra's Gondia district.
Nawegaon Nagzira Tiger Reserve (NNTR) is situated in Gondia and Shandara Districts of Maharashtra.
It was declared a Wildlife Sanctuary in 1970. In 2012, state government announced to merging this sanctuary with another national park to include in Tiger Project, now called as Nagzira Navegoan Tiger Reserve.
It comprises Nawegaon National Park, Nawegaon Wildlife Sanctuary, Nagzira Wildlife Sanctuary, New Nagzira Wildlife Sanctuary and Koka Wildlife Sanctuary.
It is connected with many surrounding tiger reserves like Pench, Kanha, Tadoba Andhari Tiger Reserve, Indravati Tiger Reserve etc.
The topography is undulating, and the highest point viz. 'Zenda Pahad' is around 702 m above Mean Sea Level.
There are 364 species of plants and the major trees are: Terminalia tomentosa, Lagerstroemia parviflora, Anogeisus lotifolia, Pterocarpus marsupium, Diospyrus melanoxylon, Ougeinia oogenesis etc.
The major wild animals are: Tiger, Panther, Small Indian Civet, Palm Civet, Wolf, Jackal, Wild Dog, Sloth Bear, Ratel, Common Giant Flying Squirrel, Gaur, Sambar, Chital, Four Horned Antelope, Mouse Deer and Pangolin.