PM MITRA Parks For The Textile Industry: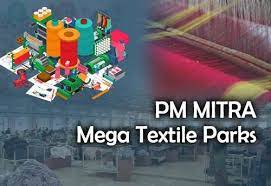 The Government of India recently announced the sites for setting up of 7 PM Mega Integrated Textile Regions and Apparel (PM MITRA) Parks for the Textile industry.
Seven sites were chosen out of 18 proposals for PM MITRA parks which were received from 13 States.
The Parks will come up in Tamil Nadu, Telangana, Gujarat, Karnataka, Madhya Pradesh, Uttar Pradesh and Maharashtra.
PM MITRA will offer the opportunity to create an Integrated Textiles Value Chain right from spinning, weaving, processing/dyeing and printing to garment manufacturing etc. at one location and will reduce the logistics cost of the Industry.
A Special Purpose Vehicle owned by the Centre and State Government will be set up for each park which will oversee the implementation of the project.
The Ministry of Textiles will provide financial support in the form of Development Capital Support up to Rs. 500 crores per park to the Park SPV.
A Competitive Incentive Support (CIS) of up to Rs 300 crore per park to the units in PM MITRA Park shall also be provided to incentivise speedy implementation.
State governments will provide a contiguous and encumbrance-free land parcel of at least 1000 acres of land.