Poshan Bhi Padhai Bhi: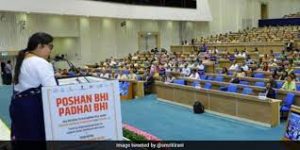 The Union Minister for Women and Child Development introduced the government's flagship program 'Poshan Bhi, Padhai Bhi', which will focus on Early Childhood Care and Education (ECCE) at anganwadis across the country.
ECCE is an important component of Mission Saksham Anganwadi and Poshan 2.0 (Mission Poshan 2.0) and envisaged under the National Education Policy.
The Ministry has allocated Rs 600 crore for the training of Anganwadi Workers (AWW) to effectively implement ECCE.
The National Institute of Public Cooperation and Child Development (NIPCCD) will provide the training for anganwadi workers.
The objective of the program is to transform anganwadi centers into not just nutrition hubs but also education-imparting centers.
The ECCE program will prioritize education in the mother tongue, aligning with the principles of the New Education Policy.
Through the changes introduced by the "Poshan bhi, Padhai bhi" ECCE policy, every child would be provided with at least two hours of high-quality pre-school instruction daily.