Israel's Air Strikes On Gaza May Constitute War Crimes: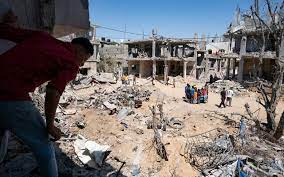 The UN rights chief recently said that Israel's recent deadly airstrikes on Gaza may constitute war crimes.
Meanwhile, countries are discussing launching a broad, international investigation.
If found to be indiscriminate and disproportionate in their impact on civilians and civilian objects, such attacks may constitute war crimes.
Israeli airstrikes and artillery fire on Gaza killed 254 Palestinians, including 66 children, and wounded more than 1,900 people in 11 days of the conflict.
According to the United Nations, a war crime is a serious breach of international law committed against civilians or "enemy combatants" during an international or domestic armed conflict.
In contrast with genocide and crimes against humanity, war crimes have to occur in the context of armed conflict.
The meaning of war crimes was clarified in the four 1949 Geneva Conventions.
Article 147 of the Fourth Geneva Convention defines war crimes as "wilful killing, torture or inhuman treatment, including willfully causing great suffering or serious injury to body or health, unlawful deportation or transfer or unlawful confinement of a protected person taking of hostages and extensive destruction and appropriation of property, not justified by military necessity and carried out unlawfully and wantonly".