Poshan Bhi, Padhai Bhi Campaign: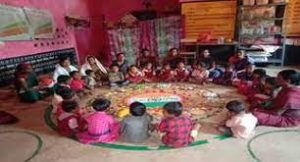 Poshan Bhi, Padhai Bhi' campaign launched by the Women and Child Development Minister Smriti Irani in September 2022.
The government plans to focus on early childhood care and education in 14 lakh Anganwadi centres, reimagining them as pre-schools providing early learning opportunities.
Target Age Group is Children under 6 years, especially under 3 years
National Education Policy Prioritizes foundational literacy and numeracy with emphasis on Child's Mother tongue
Recommendations of High-Level Task Force on ECCE (2022) :

"Rebranding of anganwadis" with upgraded infrastructure;
Re-designation of Anganwadis workers as Anganwadi teachers, and helpers as childcare workers;
Creche facilities for children under 3 years;
Develop common curriculum across different models and emphasis on education in child's mother tongue.