Pralay Missile: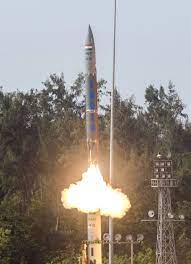 The Ministry of Defense has procured indigenous Short-Range Ballistic Surface-to-Surface (SRBM) Missile Pralay, giving Indian military the heft to its war-fighting capabilities.
Pralay' is India's first conventional quasi-ballistic missile and is an answer to any conventional missile attack from northern or western borders.
A quasi-ballistic missile has a low trajectory, and while it is largely ballistic, it can maneuver in flight.
Ballistic missiles are initially powered by a rocket or series of rockets in stages, but then follow an unpowered trajectory that arches upwards before descending to reach its intended target at high speed.
The missile has been developed in a way that it is able to defeat the interceptor missiles and also has the ability to change its path after covering a certain range mid-air.
It is powered with a solid propellant rocket motor and many new technologies.
The missile guidance system includes state-of-the-art navigation system and integrated avionics.
It can be compared to China's Dong Feng 12 and the Russian Iskander missile that has been used in the ongoing war with Ukraine.
It is capable of carrying a conventional warhead of about 350 kg to 700 kg, which gives it a deadly punitive capability.
It can carry a high explosive preformed fragmentation warhead, penetration-cum-blast (PCB) and runaway denial penetration submunition (RDPS).
The missile has a range of 150-500 kilometre and can be launched from a mobile launcher.
Pralay will be the longest-range surface-to-surface missile in the inventory of the Army.
The Army also has the BrahMos supersonic cruise missile in its arsenal, with a stated range of 290-plus kilometres.