Two New Dwarf Varieties Of Kalanamak Rice: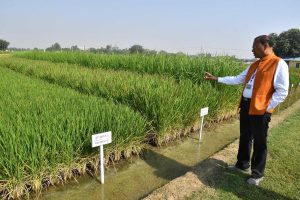 Indian Agriculture Research Institute (IARI) successfully tested two new dwarf varieties of Kalanamak rice i.e., Pusa Narendra Kalanamak 1638 and Pusa Narendra Kalanamak 1652 in Uttar Pradesh that give double the yield.
This will address the problem of lodging responsible for low yield seen across the traditional variety.
Kalanamak is a traditional variety of paddy with a black husk and a strong fragrance.
It is considered a 'gift from Lord Buddha' to the people of the Sravasti when he visited the region after enlightenment.
It has been awarded under 'One District One Product' (ODOP) scheme as an ODOP product of Siddharthnagar which is an aspirational district located in Terai belt of Uttar Pradesh.
It is grown in 11 districts of the Terai region of northeastern Uttar Pradesh and in Nepal.
It is protected under the Geographical Indication (GI) tag system.
Kala Namak rice is grown mainly without using fertiliser or pesticide residues, making it perfect for crop production.
Since pesticides and fertilisers are not used, the expense is lowered and the grower saves a lot of money.
Kala Namak rice acts as an antioxidant like anthocyanin, which assists in the prevention of cardiovascular disease and the advancement of skincare.
Kalanamak rice includes a lot of micronutrients like zinc and iron. As a result, eating this rice is also said to protect against illness caused by zinc and iron deficits.
It is claimed that eating Kalanamak rice on a regular basis can help prevent Alzheimer's disease.
Kala Namak rice can also help strengthen, regrow, and galvanise the body, as well as help regulate blood pressure, diabetes, and skin damage.