CAG Audit Report On Assam's NRC: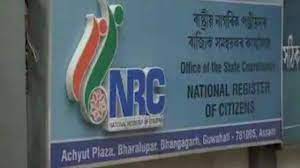 The Comptroller and Auditor General of India (CAG) has detected large-scale anomalies in the updating of the National Register of Citizens (NRC) in Assam.
At the time, the process to update the NRC was started in December 2014 with a deadline for completion in February 2015 and the project cost was pegged at Rs. 288.18 crores.
There was, however, a five-fold increase in the cost by March 2022 due to additional time to complete it and changes in the update software.
As for irregularities, the CAG found that the number of wages paid to the outsourced staff was 45.59%-64.27% less than what was approved by the NRC coordination committee.
In the NRC update process, a highly secure and reliable software was required to be developed, however, lack of proper planning was observed in this regard to the extent of 215 software utilities were added in a haphazard manner to the core software.
CAG Recommended:
The country's top auditor sought penal measures against Wipro Limited for violating the provisions of the Minimum Wages Act, 1948 and for paying data operators less than minimum wages.
Information technology firm Wipro Limited was entrusted with one of the prime software installation companies by the NRC Directorate.
Secondly, the report recommended action against the State Coordinator of National Registration (SCNR) for "excess, irregular and inadmissible payments".
The CAG also recommended fixing accountability of the SCNR as the principal employer for "not ensuring compliance with the Minimum Wage Act".
NRC Exercise:
It contains demographic information on all legal Indian citizens, allowing illegal immigrants to be recognised and deported.
It is mandated under a 2003 amendment to the Citizenship Act of 1955, which specifies the criteria under which a person obtains Indian citizenship.
Until now, such a database has only been maintained for Assam. However, India's Home Minister recently stated that the register would be expanded to include the entire country.
An NRC was first created in 1951 in Assam to identify those born in India and migrants from erstwhile East Pakistan, now Bangladesh.
In 2013, the Supreme Court issued directions to the Centre and State to initiate an exercise in Assam to update the 1951 register.
The order was based on a petition filed by an NGO named Assam Public Works.
The first draft was released in 2018.
The final list, published in 2019, included those who could establish their Indian citizenship by being residents or descendants of people living in Assam before March 25, 1971,the cut-off date for deportation of foreigners as per the Assam Accord of August 1985