Hellfire R9X Missile: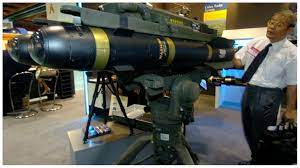 The US military used its 'secret weapon' — the Hellfire R9X missile ('Ninja missile')– to kill Al Qaeda chief Ayman al-Zawahiri on the balcony of a safe house in Kabul.
The Hellfire R9X is a US-origin missile known to cause minimum collateral damage while engaging individual targets.
It weighs about 45 kg and the missile can also be launched from helicopters, aircraft and Humvees.
The range of these missiles varies from 500 metres to 11 km.
Hellfire means Heliborne, Laser, Fire and Forget Missile
Al-Zawahiri, an Egyptian surgeon who had a $25 million bounty on his head, had helped coordinate September 11, 2001, attacks that had killed nearly 3,000 people.