Project Great Indian Bustard: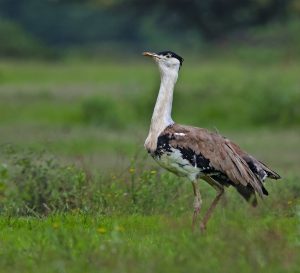 The Supreme Court of India recently requested the Union ministry of environment, forest and climate change to consider launching 'Project Great Indian Bustard (GIB)' like one for tigers.
The Great Indian Bustard, found mainly in the Indian subcontinent, is the flagship grassland species of India.
It is one of the largest flying birds in the world, and India's heaviest flying bird.
The male bird weighs upto 12-15 kg and female bird up to 5-8 kg.
Its population of about 150 in Rajasthan accounts for 95% of its total world population.
They are mainly in Jaisalmer district of Rajasthan, including the Desert National Park which is the natural habitat of the species.
Grasslands of Kutch in Gujarat which is home to second-largest bustard population in India.
Arid regions of Maharashtra (Solapur), Karnataka (Bellary and Haveri) and Andhra Pradesh (Kurnool)
It is the State bird of Rajasthan.
Conservation status:
Listed in Schedule I of the Indian Wildlife (Protection)Act, 1972,
Listed in Appendix I of CITES,
Listed as Critically Endangered on the IUCN Red List.