Finland Joins NATO: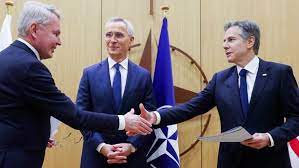 Finland has officially joined NATO after its application was ratified in record time. This move was supported by the majority of NATO members, who believed that Finland's membership would enhance the alliance's strength in the Baltic area.
Finland has joined NATO due to Russia's invasion of Ukraine, which has made its smaller neighbors feel the need for the powerful military backing that NATO provides.
Finland and Sweden applied for NATO membership after the invasion.
By Joining NATO Finland has gained better security, but it is losing out on significant trade and tourism revenue it was making from Russia, and its status as a confidence-building presence in the Baltic Sea and Europe at large is being threatened.
For NATO, the addition of Finland brings in a military trained to repel an attack from Russia and strengthens its position to station weapons closer to Russia.
NATO:
NATO, or the North Atlantic Treaty Organization, is a political and military alliance consisting of 31 member countries.
It was formed in 1949 to promote mutual defence and collective security among its members.
In 1949, there were 12 founding members of the Alliance: Belgium, Canada, Denmark, France, Iceland, Italy, Luxembourg, the Netherlands, Norway, Portugal, the United Kingdom and the United States.
Since then, 19 more countries have joined the Alliance: Greece and Turkey (1952); Germany (1955); Spain (1982); Czechia, Hungary and Poland (1999); Bulgaria, Estonia, Latvia, Lithuania, Romania, Slovakia and Slovenia (2004); Albania and Croatia (2009); Montenegro (2017); North Macedonia (2020); and Finland (2023).