Quick Reaction Surface To Air Missile (QRSAM):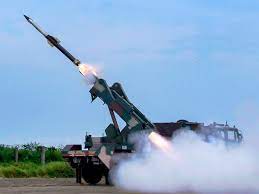 India conducted six successful flight-tests of the Quick Reaction Surface to Air Missile (QRSAM) system from Integrated Test Range (ITR) Chandipur off the Odisha coast.
The test was jointly conducted by the Defence Research and Development Organisation (DRDO) and Indian Army.
QRSAM is a canister-based system, which means that it is stored and operated from specially designed compartments.
In the canister, the inside environment is controlled, thus along with making its transport and storage easier, the shelf life of weapons also improves significantly.
The system is capable of detecting and tracking targets on the move and engaging targets with short halts.
It is a short-range surface-to-air missile (SAM) system, primarily designed and developed by DRDO to provide a protective shield to moving armoured columns of the Army from enemy aerial attacks.
The entire weapon system has been configured on a mobile and manoeuvrable platform and is capable of providing air defence on the move.
It has been designed for induction into the Army and has a range of 25 to 30 km.
The QRSAM weapon ensemble, which functions on the move, consists of a fully automated command and control system.
It also consists of two radars – Active Array Battery Surveillance Radar and Active Array Battery Multifunction Radar – with one launcher.
Both radars have 360-degree coverage with "search on move" and "track on move" capabilities.
The system is compact, uses a single stage solid propelled missile and has a mid-course inertial navigation system with two-way data link and terminal active seeker developed indigenously by DRDO.