Medium Range Surface To Air Missile (MRSAM) System: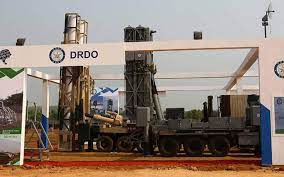 In a significant boost to India's defence capabilities, the first deliverable Firing Unit (FU) of Medium Range Surface to Air Missile (MRSAM) System was handed over to Indian Air Force (IAF) in the presence of Raksha Mantri Shri Rajnath Singh at Air Force Station, Jaisalmer in Rajasthan on September 09, 2021.
The MRSAM (IAF) is an advanced network centric combat Air Defence System developed jointly by Defence Research and Development Organisation (DRDO) and Israel Aerospace Industries (IAI) in collaboration with the Indian industry comprising of private and public sectors including MSMEs.
The MRSAM system provides point and area air defence for ground assets against a wide range of threats including fighter aircraft, UAVs, helicopters, guided and unguided munitions, sub-sonic & supersonic cruise missiles etc.
It is capable of engaging multiple targets at ranges up to 70 kms in severe saturation scenarios.
The missile is powered by indigenously developed rocket motor and control system for achieving high manoeuvrability during the terminal phase.
The firing unit comprises of Missiles, Combat Management System (CMS), Mobile Launcher Systems (MLS), Advanced Long Range Radar, Mobile Power System (MPS), Radar Power System (RPS), Reloader Vehicle (RV) and Field Service Vehicle (FSV).