Qutub Minar Not a Place Of worship: ASI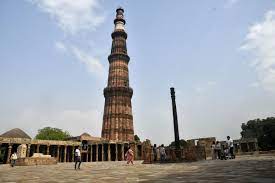 The Qutub Minar complex is not a place of worship when it was first notified as a protected monument in 1914 and its character cannot be changed now, the Archaeological Survey of India submitted in a Delhi court.
It said this while opposing a plea challenging the dismissal of a civil suit seeking "restoration" of Hindu and Jain temples on the premises.
The original suit, which claimed that 27 temples were demolished to build the Quwwat-ul-Islam mosque at the Qutub Minar complex, was dismissed last year under the provisions of Places of Worship (Special Provisions) Act, 1991.
The Qutub Minar complex are monuments and buildings from the Delhi Sultanate at Mehrauli in Delhi. Construction of the Qutub Minar "victory tower" in the complex, named after the religious figure Sufi Saint Khwaja Qutbuddin Bakhtiar Kaki, was begun by Qutb-ud-din Aibak, who later became the first Sultan of Delhi of the Mamluk dynasty.
It was continued by his successor Iltutmish, and finally completed much later by Firoz Shah Tughlaq, a Sultan of Delhi from the Tughlaq dynasty (1320-1412) in 1368 AD.
Apart from the Qutb Minar and the Quwwat ul-Islam Mosque, other structures in the complex include the Alai Darwaza gate, the Alai Minar and the Iron pillar. Inside the complex lie the tombs of Iltutmish, Alauddin Khalji and Imam Zamin.
The iron pillar of Delhi was constructed by Chandragupta II (reigned c. 375–415 CE). It is famous for the rust-resistant composition of the metals used in its construction.