Karnataka Anti-Cow Slaughter Legislation: Highlights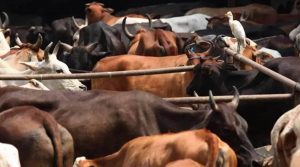 Accusing the Government of creating fear psychosis among farmers using the Karnataka Prevention of Slaughter and Preservation of Cattle Act, a convention of dairy farmers has demanded that the legislation be scrapped at the earliest in their interest.
Police were harassing farmers by using the provisions of the legislation.
While farmers are under watch by banning cow slaughter, the sale and export of beef by corporates has not been banned.
Farmers are banned from selling their cows to slaughter houses even if they were infertile. This results in more number of farmers, particularly dairy farmers, quitting agriculture and allied activities.
Even the transport of cattle had become difficult as farmers needed to take permission from various authorities concerned even for it.
The Government should buy infertile cows from farmers at market rates till it withdraws the legislation.
The word 'cattle' in the legislation is defined as "cow, calf of a cow and bull, bullock, and he or she buffalo below the age of 13 years".
Police officers ranked sub-inspector and above or a competent authority will have the power to search premises and seize cattle and materials used or intended to use to commit the offence.
Such seizures, if any, will then be reported before the Sub Divisional Magistrate without unreasonable delay.
It is a cognizable offence, violators can attract three to seven years of imprisonment.
While a penalty between Rs 50,000 and Rs 5 lakh can be levied for the first offence, second and subsequent offences can attract penalties ranging between Rs 1 lakh and Rs 10 lakh.