The Places Of Worship Act: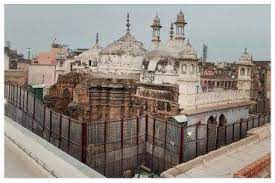 An appeal against the video survey of Varanasi's Gyanvapi mosque will be heard by the Supreme Court.
The survey, according to a Muslim organisation, is in violation of the places of worship act, 1991.
During a court-ordered videography survey of the Gyanvapi Masjid complex by a municipal court in Varanasi, a "shivling" was apparently discovered.
The Gyanvapi Masjid is located near the iconic Kashi Vishwanath temple in Uttar Pradesh's Varanasi.
The Places Of Worship Act, 1991:
The Act states that a place of worship's religious nature must remain the same as it was on August 15, 1947.
It says no person shall convert any place of worship of any religious denomination into one of a different denomination or section.
It declares that all litigation, appeals, or other proceedings ongoing before any court or authority on August 15, 1947, involving converting the status of a place of worship, will cease as soon as the law takes effect. There will be no more legal action taken.
The following are exempt from these provisions:
Ancient and historical monuments and archaeological sites and remains that are covered by the Ancient Monuments and Archaeological Sites and Remains Act, 1958.
A suit that has been finally settled or disposed of; and any dispute that has been settled by the parties or conversion of any place that took place by acquiescence before the Act commenced.
The Act also does not apply to the place of worship commonly referred to as Ram Janmabhoomi-Babri Masjid in Ayodhya.
This law will have an overriding effect over any other law in force.