Rajaji Tiger Reserve: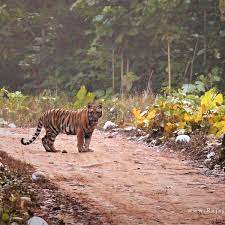 The Uttarakhand government recently decided to establish Rajaji Tiger Reserve Conservation Foundation to accelerate the ecological, economic, social, and cultural development of the landscapes in and around the reserve.
Rajaji Tiger Reserve (earlier Rajaji National Park) is located in the Shivalik range of the Himalayas and spread over 820 kms.
It covers a part of over three districts of Uttarakhand: Haridwar, Dehradun, and Pauri Garhwal.
It was named after the famous freedom fighter Rajgopalachari, popularly known as "Rajaji".
The park was created in 1983 by the amalgamation of three sanctuaries:

Rajaji Sanctuary and National park (estd. 1948),
Motichur Sanctuary (estd. 1964), and
Chilla sanctuary (estd. 1977).

On 20 April 2015, its name was changed to Rajaji Tiger Reserve.
It is famous as an elephant habitat, as there are around 600 elephants in Rajaji.
It's location in a transition zone between temperate western Himalaya and central Himalaya enhances the species diversity
The area is covered with diverse forest types ranging from semi-evergreen to deciduous and from mixed broad-leaved to Terai grassland and has been classified as Indus-Ganges Monsoon Forest type.