Melghat Tiger Reserve : Tiger Found Dead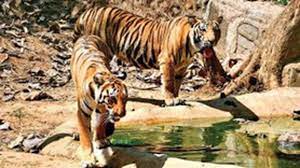 A tiger was recently found dead in the Susarda range in the Paratwada division of Melghat Tiger Reserve (MTR) buffer zone.
Melghat Tiger Reserve (MTR) is located in the Amaravati district of Maharashtra.
It is located on the southern offshoot of the Satpura Hill Range in Central India, called Gavilgarh Hill.
It was established as a wildlife sanctuary in 1967 and was declared a tiger reserve in 1974.
It was the first tiger reserve in Maharashtra.
It was among the first nine tiger reserves notified in 1973-74 under Project Tiger.
The name 'Melghat' means the confluence of various 'ghats' or valleys, as is typical from the landscape of this tiger Reserve.
The forest is tropical dry deciduous in nature, dominated by teak.